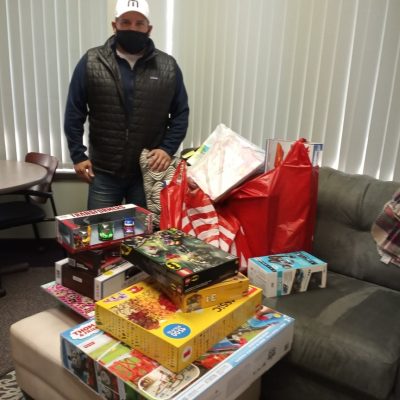 THANK YOU FOR SUPPORTING OUR 2020 HOLIDAY TOYS PROGRAM!
Updated December 21, 2020
THANK YOU to all of our supporters for making this year's Holiday Toys Program one to remember…
The holidays can be very hard for our families. A blood cancer diagnosis can wipe out their energy, time and resources, leaving very little for purchasing and giving gifts. Many parents tell us about the conversations they've had with their kids -- about how Christmas will "look different this year" because they can't afford to put presents under the tree. If that's not enough, this year they began facing additional hardships from COVID-19.
Every year, in an effort to combat some of these stresses and make the holidays brighter, BCFM provides gift packages to child patients and their siblings, and children of adult patients – and its community support that makes this all possible.
Candidly, in November, as pandemic restrictions reduced the ability for partners to run toy drives for us, and we were limited by the number of volunteers that could safely package gifts for families, we were worried we'd be unable to ensure that everyone received a holiday package. So, we got creative and modified our program, making it possible for community members to adopt a BCFM family or donate toys by purchasing families' requested items off our BCFM Amazon wish list.
As of December 21, 2020, we're elated to share that 700 (!) kids and teens either had their holiday wish lists fulfilled or were adopted for the holidays!
A special thank you to the various news media that spotlighted our program (WXYZ-TV, FOX 2 DETROIT, The Oakland Press, Macomb Daily) and, most importantly, to our community of supporters for making holiday dreams come true for our families. The generosity we've witnessed, especially in the latter part of 2020, brings us such hope for the future. THANK YOU.