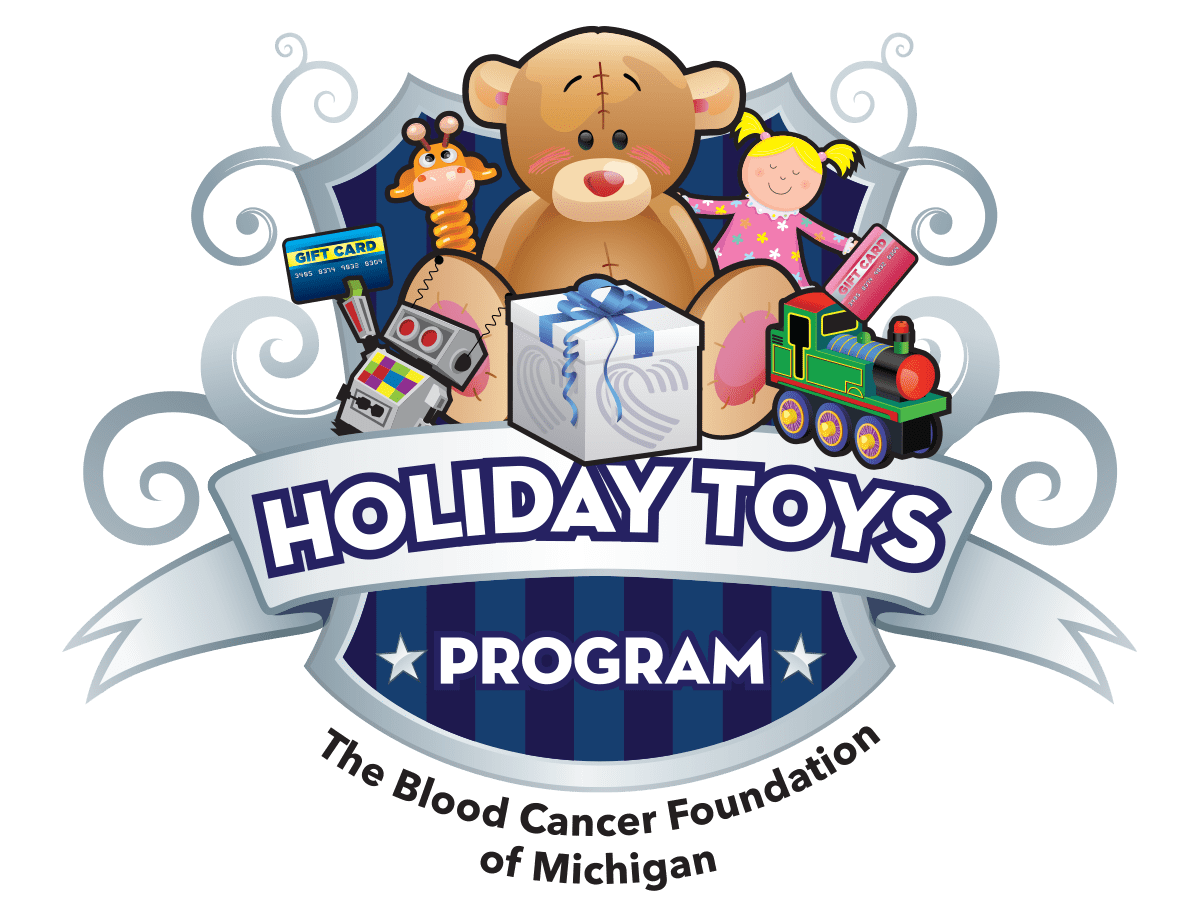 Support BCFM's Holiday Toys Program
Looking to give back this holiday season? You can spark joy for hundreds of local children and families in need. Join The Blood Cancer Foundation of Michigan in providing holiday toys to pediatric blood cancer patients and their siblings, as well as children of adult patients. This effort helps families combat the financial and emotional stress of the holidays, so they can focus on healing. Together with BCFM, you can ensure that these folks never have to make the choice between paying for treatment and providing their children with a wonderful holiday experience.
This year's Holiday Toys parties are proudly sponsored by ChoiceOne Bank, Doeren Mayhew, and OUR Credit Union. We also thank Gonzalez Production Systems, Midland Tool & Supply, Midwest Management Group, OUR Credit Union, and Walbridge for supporting the 2023 Holiday Toys program by sponsoring wish lists.
Involvement Opportunities
Sponsor a Wish List for a BCFM Family – Receive holiday wish lists directly from a family in need. Simply tell us the number of children you are looking to sponsor, and we will match you with a family. Shop for the children directly (wish lists can be fulfilled for approximately $75-$100 per child), or let the BCFM elves do the shopping on your behalf.
Make a Cash Gift – Can't make it to the toy store this year? Make a cash gift to bring the joy of the holidays to local children affected by blood cancer.
Volunteer – Our team is always looking for help in making the holidays brighter! Learn more about BCFM volunteer opportunities by contacting our Development Coordinator, Teri Serecky, at tserecky@bloodcancerfoundationmi.org, or sign up today by clicking HERE.
Sign up today to make a difference 
It's not too early to reserve wish lists and sign up to receive more information on BCFM's 2023 Holiday Toys program! Simply click the button below and fill out the form. Someone from our team will contact you with next steps throughout the year for wish list fulfillment and volunteer opportunities. BCFM's Holiday Toys program is only made possible through your generosity!
---
FAQs
I'd like to purchase toys for a child/children for the holidays. How does this work?
You can submit a Holiday Toys support form through our website at bloodcancerfoundationmi.org or contact our Patient Events Coordinator, Kristen King at 248.530.3002 or kking@bloodcancerfoundationmi.org. Once you tell us how many children you'd like to support, we will send you a personalized wish list from each child, so that you can purchase the specific toys they've requested. We ask that toys are dropped off at BCFM in Farmington Hills within one month from receiving the wish list. Toys are then mailed out to each family or hand-delivered at one of our Holiday Parties.
How else can I support Holiday Toys?
We have many ways you can support this program beyond purchasing toys for children! 
Volunteer to assemble packages. We are always looking for volunteers to help process donated toys and prepare them for shipment to families. This is a great opportunity for a group of individuals to come into our office and help with some of the "behind-the-scenes" work to get toys out to the community.
Volunteer at one of our Holiday Parties. Each year, we host parties across the state (in Metro Detroit and Grand Rapids,) where families can gather to celebrate the holidays, enjoy food and crafts together and, of course, meet Santa! If you're looking for a way to directly interact with and support some of the children/families we serve, this is a wonderful way to do so.
Donate. Providing a meaningful holiday experience for blood cancer patients and families brings with it many costs. Whether you choose to support BCFM with a financial contribution, or would rather donate specific items for BCFM holiday parties (craft items/activities) your help is much appreciated!

Host a fundraiser.

Do you have connections through local businesses, your church, work, or family? Encourage your community to spread holiday cheer through a fundraiser. Whether you're hosting a bowling night, bake sale, craft show, or any number of activities, you will be helping to make the holidays brighter for blood cancer patients and their families.