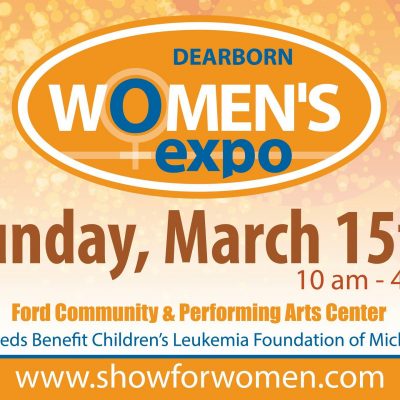 Press & Guide (3/2/20): Annual Women's Expo coming up in Dearborn
View this story in Press and Guide
By John Zadikian For MediaNews Group
The Dearborn Women's Expo fills the Hubbard Ballroom each March with dozens of vendors ranging from lifestyle products to home improvement and more.  The event, now in its 17th year, takes place March 15.
Brittany Crawford was a Dearborn High School student who died from leukemia in 2002. The Dearborn Women's Expo helps raise money for the Children's Leukemia Foundation of Michigan, which provided support for Crawford's mother and aunt – the expo's co-creators – during her sickness.
Final preparations are wrapping up for the 17th Annual Dearborn Women's Expo, one of the area's more popular precursors to spring.
More than 60 exhibitors are set to bring a unique mix of retail, services, food and fun to the Ford Community & Performing Arts Center March 15. The show, while geared toward women, also has exhibits that appeal to men and children.
"We have home improvement companies, fashions, jewelry, financial, health, food, fitness, and more," Julie Sullivan, the expo's co-creator, said. "We're also excited to have new exhibitors like BJ's Wholesale, Hunt and Gather Dry Foods, Prickly Pear Popup, and Raymond James."
Sullivan said the expo offers patrons the opportunity to have fun and fulfill the need for retail therapy, but it also has a serious backstory.
The event raises money for the Children's Leukemia Foundation of Michigan and is dedicated to the memory of Sullivan's niece, Brittany Crawford. The former Dearborn High School student lost her battle with the disease in 2002. Sullivan and her sister-in-law, who was Crawford's mother, organize the event as a means of reciprocating the organization for its support during the teen's ordeal.
The foundation is an independent, statewide organization that provides support to adults and children affected by leukemia, lymphoma, and related blood disorders. Sullivan estimates more than $50,000 has been raised for the foundation by the expo over the last few years.
Expo dollars will also go toward an Impact Scholarship for the Stephen Bufton Memorial Educational Fund. The scholarship is awarded to a local woman attending a community college or vocational-technical school in Wayne, St. Clair, Macomb, or Oakland counties.
Among the day's highlights are a presentation on communications skills and proper body language by success coach Candace Yaeger, a discussion about how to deal with stress from radio talk show host Dr. Tahir Rubina, and fashion shows by Sew Modest Studio and Lane Bryant.
Expo visitors will also have chances to win silent auction prizes that include Detroit Tigers tickets, golfing at Sycamore Hills Golf Club, a Midway Sports & Entertainment package, and a Somerset Inn – Troy hotel stay. In addition, there will be a duck pond and two 50-50 raffles to raise additional funds.
The Dearborn Women's Expo is Sunday, March 15, from 10 a.m. to 4 p.m. in the Hubbard Ballroom at the Ford Community & Performing Arts Center, 15801 Michigan Ave. at Greenfield. Admission is $3 per person; children 12 and under get in free. Parking is free.
The first 250 attendees will get a free goodie bag full of interesting and promotional items. For more information on the events, as well as discount coupons, visit the expo's website, www.showforwomen.com.