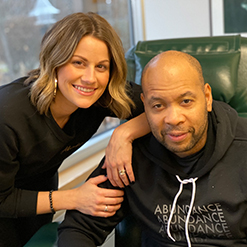 Paris Jones
It was early 2019, and 40-year-old Paris Jones, his wife, Alison, and their 3 beautiful children were living the dream. Paris was an in-demand DJ for the well-known local event planning company, Star Trax Events, and he traveled the country emceeing private events. He was, quite literally, the life of the party, making his living spreading his boundless energy and getting people up & dancing. Paris always lived for the moment and felt like as long as he stayed fit and active, his health would never be a concern.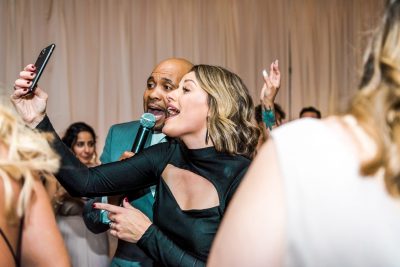 That summer, however, Paris started to feel like he couldn't catch a break. He developed pneumonia and a cracked rib that wouldn't heal, causing him to struggle to breathe and sending him to the ER, twice. By the fall, he was suffering from a debilitating amount of pain in his bones, along with muscle spasms. In October, he headed to California for meetings for a special film project, trying to hide the fact that he was having trouble walking. He even found himself needing to lean on his six-year-old son for support at times. When his kidneys started failing, Paris couldn't ignore his symptoms any longer. It took the doctors at Henry Ford West Bloomfield just 15 minutes to diagnose him with advanced-stage multiple myeloma. As Alison tells it, "The possibility of cancer had never crossed our minds. When we met with the doctors, the whole room went black – I had tunnel vision. I was waiting for 'this is a non-cancerous problem' and I just didn't hear it."
Because Paris's insurance wouldn't cover chemotherapy, he and Alison struggled for weeks to get him the chemo he needed to save his life. He finally found a lifeline at Karmanos Cancer Institute, where they started chemo immediately and put him on a path toward his future. After a horrific two weeks where he couldn't get out of bed, he gradually rebuilt his strength and took his first step on Christmas Eve, walking unassisted by February. Paris endured chemo infusions every week and continues to take daily chemotherapy pills. In July 2020 he underwent a stem cell transplant and doctors collected enough stem cells for 3 more transplants in the future. This roller coaster of treatment put a serious strain on their young family. Paris, whose family is in New York, needed 24/7 care. Early on, he had to relearn how to lift a cup to his lips, shower, and use the bathroom, and he required help all along the way. Alison, a hair stylist, took the lead, with support from her parents and brother, providing the stability and comfort Paris needed to learn his new normal. "The patient isn't the only one fighting cancer…I have entirely new respect for caregivers now," says Alison.
Paris discovered The Blood Cancer Foundation of Michigan while doing research on financial programs for which he qualified. "I'm used to doing stuff on my own, and this time, I knew I needed help. I just said to myself, 'I've got to do research, and I've got to figure this out for my family.'" Paris's Patient Support Specialist at BCFM checked in on him regularly with phone calls, and when he needed travel reimbursement for receiving his treatments, she coordinated the paperwork he needed and made sure he knew all the options available to him. Additionally, BCFM supported his family during the holidays, making sure his kids were taken care of with a box of toys they'd love. According to Paris, "the kids were excited…it was a good time!"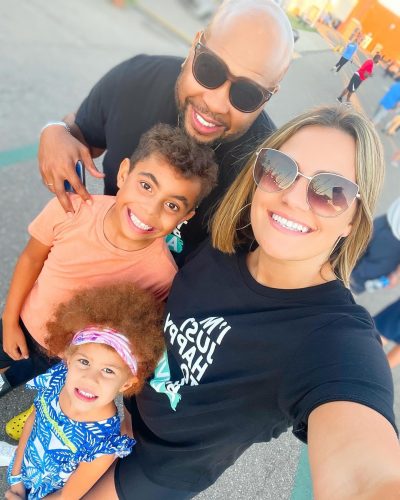 The path of learning to live with multiple myeloma has not been without its twists and turns. Paris still struggles with chronic pain and the shockwaves of change that his diagnosis has sent through his lifestyle. Through it all, though, Paris remains positive, upbeat, and willing to adapt. He's pivoted his career toward the film industry, and is even producing a documentary about his experience with multiple myeloma. He hopes that by sharing his story, he'll inspire others to listen to the warning signs their bodies are giving them. His advice to others? "Make sure you get your checkups. You can be on top one minute, and it can all come crumbling down. I waited too long to get checked and if I wouldn't have caught it when I did, it might have been a different outcome for me. I'm just happy to be alive."
Alison also is looking ahead and changing for the better. She chose to use Paris's positivity as her inspiration to start Alive & Kind apparel company, which features merchandise with motivational and uplifting messages that help the family navigate their day-to-day. She even donated a portion of proceeds back to BCFM Holiday toys in 2021…now THAT's paying it forward!
The Jones family is determined to give their story a happy ending, and they're making a difference in the lives of others, as well. You don't have to be a famous DJ to know that that's truly music to the ears!