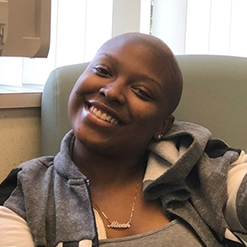 Micah Allison
Working with little kids in a daycare setting, 19-year old Micah Allison of Wayne County had grown accustomed to the "germ factor." But in the summer of 2019, Micah developed a whopper of a cough that she couldn't seem to shake. As time went on, her cough grew worse, she lost her appetite, and the lymph nodes in her neck swelled. She was exhausted and knew she looked sick. She headed to urgent care for a blood test, ultimately finding herself in a bed at St. John's Hospital, listening to a doctor tell her, "Your test results came back as lymphoma."
Micah couldn't believe her ears, "I was like, 'CANCER...whoa.' I tuned her out right away." Bone marrow biopsies determined that Micah had Stage 2 Hodgkin's lymphoma. Soon, Micah was enduring three rounds of chemotherapy each week, as well as a steroid regimen. Micah worked hard to keep her spirits up throughout treatment. She says, "Having cancer was pretty traumatizing, but I decided to roll with the punches. I told myself: this is what I have to deal with at the moment. I wouldn't allow myself to sit with it for long. Cancer has to be dealt with; it's all you can do."
Bella, a Patient Support Specialist at The Blood Cancer Foundation of Michigan, connected right away with Micah and her mom, Tanjayika. Bella called often to check in on Micah's wellness, referred the family to resources, and inquired if Tanjayika needed anything. Bella became a reliable presence for the family, and they appreciated her steady support during such an overwhelming time. As Tanjayika puts it, "I'd always be so happy to hear from BCFM. People don't have to take time out of their day to make that phone call. It means a lot to know that someone is thinking of you and checking in on you!"
Micah, also, recognizes the importance of having outside support from people like Bella. "You've got to surround yourself with people who are rooting for you and on your team. People around you play a big part in the healing process."
While Micah succeeded at maintaining a positive mindset DURING treatment, she admits she struggled more after treatment was complete and she was in remission. The changes in her appearance brought on by the effects of chemotherapy were tough to take. She lost her hair, gained weight, and didn't feel or look like herself. Wigs were one way she knew to bring her confidence back, but they were very cost-prohibitive - $700 for a single wig. Micah had a bit of sticker shock, but she didn't let that get her down for long.
Soon after starting chemo, Micah decided to teach herself to make wigs by watching tutorials on YouTube! "I know how hard it was for me to find a wig, and I want to make it easier for other people going through cancer treatment. They deserve to have something to make them feel confident and make them feel good."
Micah is now a healthy, thriving 22-year-old, and has her own wig business, House of Eternal Beauty. Being diagnosed with cancer as a young adult is something she never expected, but it brought her a sense of purpose. The upbeat way Micah dealt with her experience while finding her passion in the process is truly something for people of all ages to admire!