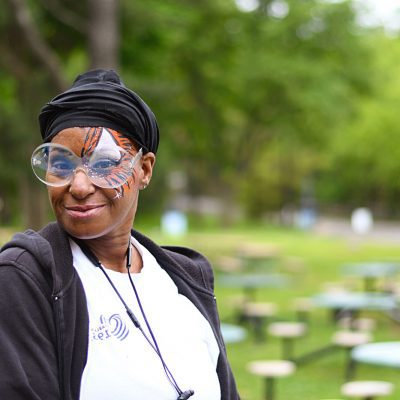 LaTanya
Tanya spread smiles and inspiration to everyone she met.  If you had the opportunity to sit down and talk with her, you learned about her never-ending positive attitude to meet head on, the challenges that life had dealt her. We were humbled to have Super Mom share her love and talent at so many of our patient events at BCFM, and honored to count her among our friends.  
We were sorry to learn that Tanya lost her battle with Non-Hodgkin's Lymphoma in November.  We'll miss you Tanya.
---
What were you doing on New Year's Day of 2000? While most families were relaxing and perhaps watching the Lions game, LaTanya's family was doing something very different. They were at the hospital receiving a terrifying diagnosis. At 24 years old, LaTanya was diagnosed with Non-Hodgkin Lymphoma (NHL).
Suddenly, this Detroit-area family was consumed with tests, scans, lumbar punctures, biopsies and bone marrow aspirations. LaTanya's family vowed to do anything and everything they could. Facing a disease that strikes more than 70,000 patients a year and kills 20,000 of them, they also vowed to make every moment together count.
The Blood Cancer Foundation of Michigan (BCFM) stepped in to support this family financially and emotionally.
"I can't describe the amount of love I received from BCFM," LaTanya says. "They have provided my family with financial help and recreational opportunities, giving us important time together."
Today, LaTanya has a family of her own, but she is still undergoing treatment, and the disease has taken its toll on her future prospects. Unable to work, she regrets not having had the opportunity to move up in the world.
"The disease has affected my daily living. But it's made me appreciate my family all the more," LaTanya said.