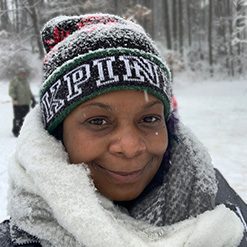 Kenyetta Hayman
Imagine for a moment that you're a single mother of a 7-year-old. You have an active life, you've just completed your college degree and landed your dream job.  Life's pieces are finally falling into place for you and your daughter. You're at the top of your game, but, things aren't quite right. You realize that you're feeling run down more frequently than normal.  Then, you discover a mysterious lump in your armpit, and nonstop itching and pain take over your day-to-day.
This was BCFM patient Kenyetta Hayman's reality in 2018. After almost a year of confounding the doctors, Kenyetta was finally diagnosed with peripheral T-cell lymphoma, a very rare form of blood cancer. Kenyetta feared for her daughter, Destiny, as she endured chemotherapy and radiation. She had to stop working when treatment made it impossible to continue.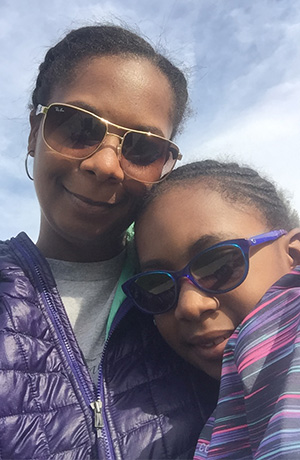 "When I was diagnosed, the first thing that was going through my mind was, 'if something happens to me, who's going to take care of my daughter?'"
Kenyetta is typical of 77% of patients and families that The Blood Cancer Foundation of Michigan supports regularly: someone who is employed and supporting themselves, but is one disaster away from falling into or becoming further reliant on the ever-growing social safety net. A blood cancer diagnosis has life-shattering consequences for any family affected, but is especially devastating for those who are already struggling to make ends meet. These patients need bolstering emotionally, financially, and socially, and BCFM answers the call – time and time again.
"Sometimes people have medical conditions and they CAN'T work…it's not that we don't want to! It is hard for me to accept help, because I'm a single parent and I have been doing it by myself. Thankfully, I've met a lot of nice people from my involvement with BCFM and it's made me feel less alone on this journey."
BCFM helped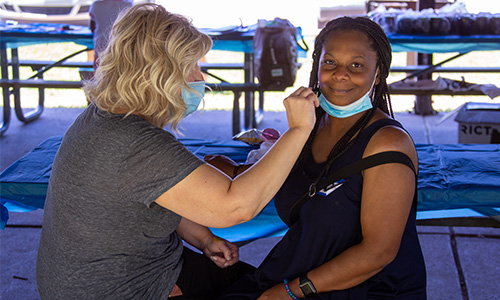 smooth the Hayman family's path when Patient Support Specialist Angela stepped in with support, providing financial assistance in the form of travel reimbursement, regular emotional support phone calls, resource connection, and holiday toys, which gave daughter Destiny smiles for days. By growing Kenyetta's support system, BCFM has provided her with the stability that she needs to weather this ongoing storm while remaining focused on healing and finding a treatment that works.
Kenyetta is now on her sixth treatment and she is feeling better than she's felt in years. Her journey with blood cancer hasn't been an easy one – and it isn't over yet - but BCFM has supported her at every turn, and we'll continue to be there.