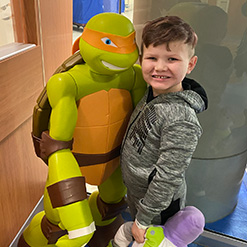 Eddy King
Sure, they purchased a giant pack of toilet paper (it was 2020, after all), but this wasn't any ordinary trip to Sam's Club for Ashley and Bryan King of Clinton Township. It was 15 days after their beloved three-and-a-half-year-old son, Eddy, began treatment for acute lymphoblastic leukemia at Royal Oak Beaumont, and after a long stretch in the hospital, it was good to get out for an hour. At Sam's, they were approached by a friendly woman named Johannah who inquired about the gold ribbons of childhood cancer awareness on their face masks. They told her about Eddy, and she told them she was praying for them. She then shared with the couple something else: she was also the parent of a childhood leukemia survivor, Ameir, who had just completed treatment the year before. She gave them hope and told them they didn't have to go it alone; an organization existed that had helped her family tremendously and could do the same for them: The Blood Cancer Foundation of Michigan.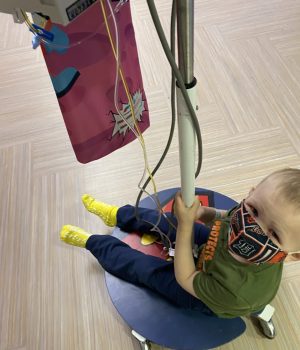 BCFM could not have come to Ashley and Bryan at a better time, as they were really struggling. When Eddy was diagnosed after complaining of enlarged lymph nodes and sore legs, his hemoglobin was a mere 3.5, and his organs were essentially shutting down. Cancer cells were detected in his spinal fluid as well as his blood, which made him high-risk and in need of aggressive treatment. In addition, COVID-19 hospital protocols at that time dramatically affected the family. Ashley was 6 months pregnant with baby Susie, which complicated hospital visits both before and after the birth. Bryan had to quit his job to be the main caregiver in the hospital with Eddy.
Seeing the Kings needed a helping hand, Johannah connected them with BCFM's Patient Support department, which assisted the family in a variety of ways.
Financial help was critical during that difficult time, and BCFM stepped up in a big way for the Kings. They handled travel reimbursement for frequent trips to treatment. Eddy and Susie also benefited from BCFM's Holiday Toys program, taking the burden off Ashley and Bryan. The Kings grew to love attending BCFM social events and mingling with other families who've "been there." They experienced a Tigers game and received tickets to the Michigan State Fair, as well.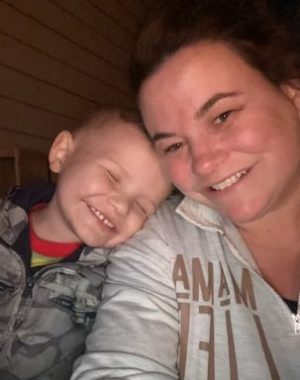 Perhaps most important to Ashley is the emotional support they receive from Angela, their dedicated Patient Support Specialist. Angela checks in with the family regularly and just knowing she's there means the world to Ashley: "I know if I ever needed anything, Angela would do whatever she could for us. She is just so amazing, and we're so incredibly thankful for every single person at BCFM and all that they do for families."
Eddy has handled his treatment like a champ, and, with his family by his side, will ring the bell signifying the end of chemotherapy in March 2023. Ashley states, "Here I was, down & out, and I believe that's why I went into Sam's Club that day. To be able to feel supported like that; it's just the best."