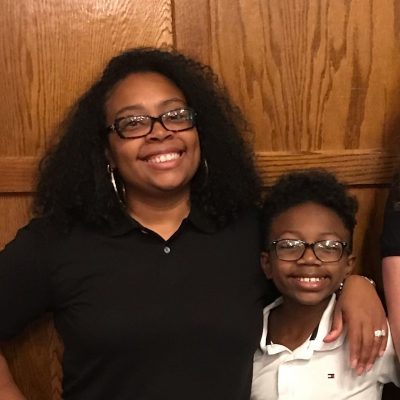 Ameir
In the fall of 2013, Ameir, who had just turned 6, had a persistent cough. Beyond that, his mom, Johannah, had noticed differences in his energy level, but certainly wasn't thinking it was severe. At the time, she was working 60 hours week, had a toddler at home, and was mere months away from getting married, which brought more children into the household.
In October, Johannah took Ameir to the pediatrician, who, after feeling signs of enlarged organs and uncovering abnormally low hemoglobin levels, sent them straight to the hospital. They were admitted at Ascension St. John, and told the following day that Ameir had acute lymphoblastic leukemia.
After that, Johannah didn't hear anything. Regardless of how it was explained, she still blamed herself and became overwhelmed with questions ... Where did it come from? What did she do wrong? She didn't know anyone with cancer; it didn't run in her family?
The same day, Ameir started his treatment. He was at the Van Elslander Cancer Center for 13 days his first trip, and would endure chemo for three years. Ameir's second diagnosis was May of 2017, four months after his cure date, bringing greater challenges for two more years – including more hospitalizations and aggressive treatment.
"Life was insane and we didn't have a strong support system around us," said Johannah. "To hold it together for Ameir, I just bottled up my emotions, prayed and winged it."
A glimmer of hope came when a cancer center social worker told her about a program that would give the family a break from blood cancer, providing opportunities to get out and do something enjoyable at no cost to them. When they enrolled in BCFM services, they received tickets to sports games, and attended fun outings with other families; they also received toys during the holidays. What's more, a BCFM Patient Support Specialist called every month to check on Johannah, giving her an emotional outlet and the ability to have a conversation with someone outside the hospital.
Ameir was cured for the second time in May of 2019, and continues to look forward to the events BCFM plans for patients and families. "BCFM's genuine gestures have really helped us on the path to healing," Johannah said.