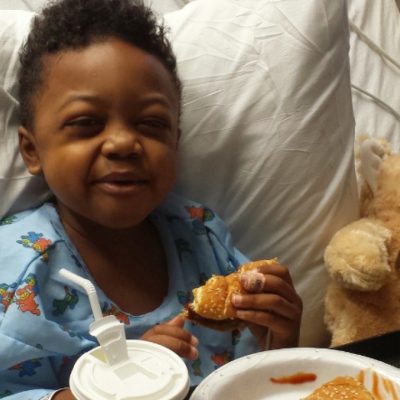 WXYZ-TV ABC Detroit (9/20/19): How 11-year-old Ameir overcame blood cancer
MACOMB, Mich. (WXYZ) — Out of the 6,000 people in Michigan that are diagnosed with a form of blood cancer each year, 11-year-old Ameir Edmunds is one of them.
It was back in 2013, when Ameir was only 6 years old, that he and his family knew something was wrong. Ameir had a persistent cough and was low on energy.
"I would feel tired, like I just kept on sitting down instead of playing," said Ameir.
His mother, Johannah, took him to a pediatrician. It was there they discovered Ameir's enlarged organs and his hemoglobin numbers were off, and shortly after, he was admitted to Ascension of St. John. The following, day Ameir was diagnosed with acute lymphocytic leukemia.
"It was scary, cause I didn't know anything about it. I didn't know anyone personally with cancer, I didn't know if it meant if he was going to die, that was my first question, like what does this mean?" Johannah said.
Ameir underwent chemotherapy for three years. Four months after his cure date, Ameir was diagnosed again in May 2017. He once again underwent chemotherapy.
As of May 2019, Ameir has been cancer-free. He just got back from a victory school and started seventh grade a few weeks ago. He has some advice for anyone who battled cancer like he did.
"Life can be hard, like actually really hard, and some things are really, just really not fair at all, but you have to show yourself that you are better, you have to overcome it," Ameir said.
September marks Blood Cancer Awareness Month, which includes a diagnosis of lymphoma, leukemia and multiple myeloma.
According to the Children's Leukemia Foundation of Michigan, there are around 5,900 new cases of blood cancer each year. That equates to someone being diagnosed with a form of blood cancer every 90 minutes. As of right now, there are nearly 46,000 people in Michigan living with a form of blood cancer.
"Blood cancer, like many cancers, is difficult to fight; it takes a long time to beat and it drains a family of resources. The minute you are diagnosed, it upends your entire family. Your social life is turned upside down, your financial life can be turned upside down," said President and CEO of the Children's Leukemia Foundation of Michigan Heidi Grix.
To find out more about Children's Leukemia Foundation of Michigan, click here .
---