BCF is working hard to ensure that adults and children in Michigan affected by leukemia, lymphoma, myeloma and other blood related disorders are supported through the COVID-19 crisis and beyond. Those we serve are some of the most vulnerable populations in our community, facing stressors that extend well beyond the immediate health concerns. Beyond the daily difficulties in accessing care and managing their disease, patients are anxious and fearful about their profound immune deficits and higher risk for serious illness from COVID-19, and many families are facing more financial struggles because of the resulting economic fallout.
How is BCF servicing patients & families differently during this trying time?
Our Patient Services Coordinators have expanded options for personal connection, offering more frequent and deepened one-on-one support, including through live video.
We're hosting our monthly Blood Cancer Support Group virtually through Zoom.
We're providing direct financial assistance to patients and identifying supplemental resources to help them with financial hardships.
We're educating families on additional challenges that are anticipated in the coming months.
We're arranging for virtual social events, including our first ever virtual walk, Walk Around the Block, which is happening through the end of June.
To reduce patients' risk of exposure, we've cancelled all of the in-person events and social outings we host for our patients and families as part of our Social Support Program until further notice. We understand that this program plays an important role in returning some normalcy to lives interrupted by blood cancer, and look forward to providing an update on its future very soon. 
If you have questions for BCF concerning these updates, please contact us at 248.530.3000. If you're enrolled with BCF and have questions about your services, please contact Melissa Antoncic at 248.530.3006. 
Click below to view Tips for Coping compiled by our Patient Service Coordinators!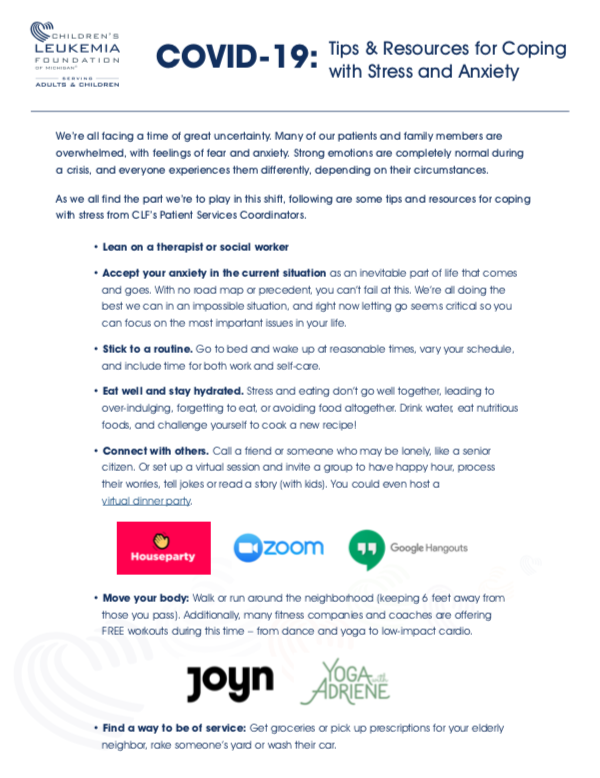 How can you help our patients & families?
Now, more than ever, BCF's commitment to supporting blood cancer patients and families is critical, as we anticipate COVID-19 will continue to impact those with blood cancer in unimaginable ways. Your donation today will allow us to continue funding the valuable programs and services that meet patients' and families' urgent emotional, social and financial needs.

We hope you and your loved ones are staying safe and healthy. THANK YOU, wholeheartedly, for your concern and your help. Together, we'll ensure that blood cancer patients have the support they need to keep their heads up and their families sustained through this trying time.