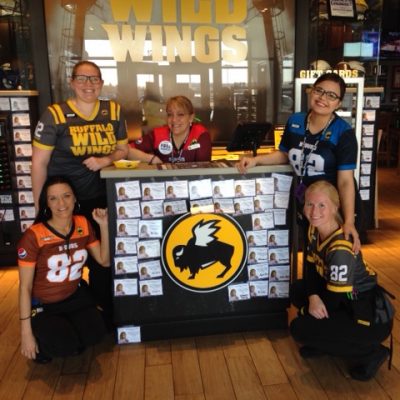 Children's Leukemia Foundation of Michigan Partners with Buffalo Wild Wings to Raise Support for Patients and their Families
Farmington Hills., Mich. (March 2018) – Children's Leukemia Foundation of Michigan (CLF) and Buffalo Wild Wings (BWW) have teamed up for the March Madness Pinup Coupon Program. So, get your wings on and watch Michigan and Michigan State work their way to the final four while supporting a good cause.
Customers who attend select BWWs during March Madness can purchase a $5 pinup, and receive a month worth of weekly coupons.
Every 90 minutes someone in Michigan is diagnosed with leukemia, lymphoma or another potentially cancerous blood disorder. These diseases place enormous strains on patients, and the entire family feels the impact.
Every $5 pinup purchase at Buffalo Wild Wings during the month of March will go towards assisting the more than 3,200 patients and families throughout the state who turn to CLF – providing the support, resources and information they need to sustain themselves, physically and emotionally, throughout their experience with blood cancer.
Pinups to support CLF may be purchased at the following BWW locations. The March Madness Pinup Coupon Program runs through the end of March. Coupons are valid during April and May of 2019.
Adrian – 125 E. US223

Birch Run – 8811 Main St.
Chesterfield Township – 51346 Gratiot Ave.
Clinton Township – 15745 15 Mile Rd.
Detroit – 1218 Randolph St.
Fenton – 3190 Silver Lake Rd.
Flint – 3192 South Linden Rd.
Gaylord – 2305 Snowdrift Dr.
Grand Blanc – 8251 Trillium Circle Ave., Suite 102
Lapeer – 700 S. Main St. #101A
Marquette – 2500 US Hwy 41 West
Novi – 44375 Twelve Mile Rd.
Petoskey – 2180 Anderson Rd, Suite 110
Port Huron – 4355 24th Ave., Suite 1
Royal Oak – 500 S. Main St.
Sault Ste Marie – 4536 I-75 Business Spur
Sterling Heights – 44833 Mound Rd.
Traverse City – 3480 S. Airport Rd.
Troy – 1873 East Big Beaver Rd.
Warren – 29287 Mound Rd.
For more information, visit leukemiamichigan.org or call 248-530-3002.
---
View this story in the Macomb Daily.
View this story in the Oakland Press.