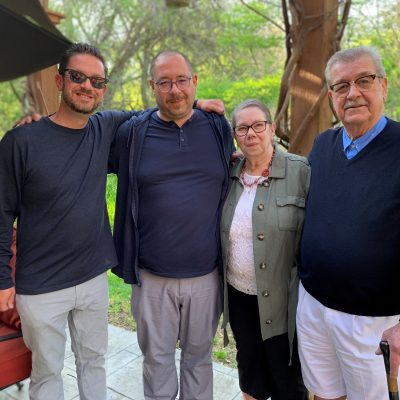 Cancer Survivor's Day (6/6/21): A Story of Survivorship & Giving Back
In honor of Cancer Survivor's Day (June 6, 2021), one of our very own, Brad Evans, who serves on The Blood Cancer Foundation of Michigan's Board of Directors, shares his story of blood cancer survivorship. As someone who has experienced a life-threatening disease, Brad wants to help others. And, by sharing his story and volunteering, he's helping BCFM raise money and ensure other blood cancer patients find the help they need to take control of their diagnoses.
In May of 1996, Brad was diagnosed with blood cancer at age 22.
Originally from the west side of Michigan, Brad had recently moved in with his aunt and uncle on the east side to start his first professional job out of college. Oddly, he began to experience itching, fevers and night sweats – things he chalked up to allergies and living in a new home. However, when a swollen lymph node on his neck prevented Brad from buttoning his shirt collar, his aunt urged him to go to the doctor. An appointment and a subsequent biopsy revealed he had stage 4b Hodgkin's disease.
Brad went through chemotherapy and radiation for a year. With Brad's parents living on the other side of the state, and his aunt and uncle working every day, Brad was extremely isolated while navigating his diagnosis. At his young age, he was faced with decisions he was not prepared to make, like projecting whether he ever wanted a family. And, he had to manage a lot of the daily challenges by himself, including making the drive alone to treatment.
Brad also needed help financially to deal with his medical bills. To manage treatment, he needed various prescriptions and had to seek reimbursement, as well as use credit cards and his savings, to accommodate the extra costs. To get him through dry spells, his grandmother would send him $100 for groceries. "Her generosity made a huge difference at such a difficult moment in life," Brad said.
Unfortunately, Brad was never offered additional support by his doctor, who was great but had a lot of patients, and resources weren't readily available. Had Brad known that an organization like The Blood Cancer Foundation of Michigan (BCFM) existed, he's confident he would have benefitted greatly – namely from having an impartial third-party offering guidance and support.
"Friends say what you want to hear, and family look at you like they're scared they might lose you," Brad said. "When you have good days and bad days, you need someone that isn't friends or family – a social worker with trained expertise – to help with the specific situation you're going through. Further, the aid that BCFM's prescription and travel reimbursement provides makes a real difference to people incurring these costs. While it might not be enough to make anyone whole, it's a hand up – someone there to help."
Beyond emotional and financial support, Brad is excited to get back to a world where BCFM can, once again, facilitate social connection through its many patient events. During his treatment, he was constantly seeking out someone going through what he was going through, to connect with and "to hear the good, the bad, and the ugly."
Brad was declared cancer-free in May of 1997. He got involved with BCFM six years ago because his experience dealing with blood cancer has shown that patients need support along the way.
Even more than 20 years later, Brad continues to face triggers that bring him back to his experience, as well as survivor's guilt ("why did I live?" why did this happen to me?"). Had his aunt not told him to visit the doctor, it could have been dire, and Brad worries about the current world we're living in…
"I believe it will take a year for us to fully see the indirect consequences of the pandemic, including late diagnoses and severe financial troubles," Brad said. "That is why BCFM's patients and families need our help more than ever."
DONATE NOW and provide immediate answers for how thousands of local blood cancer patients and families can move forward: bloodcancerfoundationmi.org/how-you-can-help/donate-now/