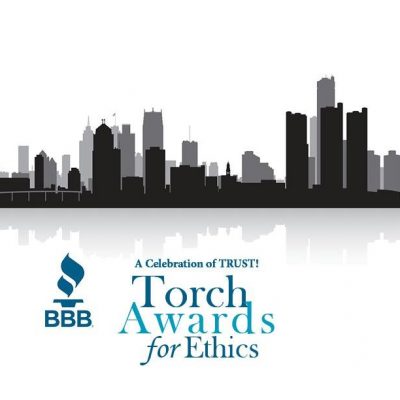 BCFM Wins BBB Torch Award for Ethics
Farmington Hills, MI – December 14, 2020—The Better Business Bureau of Eastern Michigan and the Upper Peninsula is proud to recognize The Blood Cancer Foundation of Michigan, a recipient of the 2020 Torch Awards, honoring the highest standards in ethics.
"This was a very competitive year for our Torch Awards for Ethics," said Melanie Duquesnel, president and CEO, Better Business Bureau of Eastern Michigan.  "All of our applicants had impressive applications, but our six recipients stood out amongst their fellow finalists." It is wonderful to be able to award businesses for their hard work in putting ethics at the forefront."
The Blood Cancer Foundation of Michigan (BCFM) is a statewide non-profit organization that provides patients and families with the support, resources, and information they need to sustain themselves, emotionally and practically, as they face leukemia, lymphoma, myeloma and other blood related diseases.
"We are humbled and grateful to receive recognition for our ongoing ethical practice from such a highly placed and trusted organization as The Better Business Bureau," said Heidi Grix, BCFM President and CEO. "It means that our rigorous processes in keeping the patient and family in the center of our world as we deliver wrap around support services is recognized as best practice.
Winners in five categories, based on company size, were announced during a virtual ceremony, December 9, 2020. To view the awards ceremony, click here.
ABOUT BETTER BUSINESS BUREAU
BBB Serving Eastern Michigan is a non-profit organization with the purpose of promoting an ethical marketplace and creating a community of trustworthy businesses and charities. BBB provides objective advice, BBB Business Profiles on more than 5.3 million companies, 11,000 charity reviews, dispute resolution services, alerts and educational information on topics affecting marketplace trust. Better Business Bureau provides its services free to the public in its service area that spans the eastern half of the Lower Peninsula from Jackson county, north through central Michigan to Alpena and includes the entire Upper Peninsula. Visit bbb.org for more information.