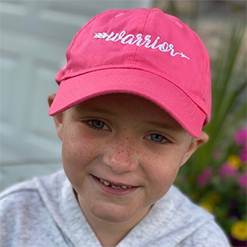 Aubrielle Woods
It was supposed to be a special family day at the apple orchard for the Woods family of Genesee County, but something was off with six-year-old Aubrielle. Described by her parents, Jason and Sara, as a spunky and sassy little girl, Aubrielle just wasn't acting like herself. Her color was off, and she wanted to take a nap within an hour of waking up. She wasn't even interested in pushing her beloved big brother, Jackson's buttons…something that definitely wasn't like her. Jason and Sara promptly took Aubrielle to her family doctor for blood work.
The date was September 21, 2020, and it proved to be a day the Woods family would never forget. Within hours, Aubrielle was admitted to Hurley Hospital and diagnosed with b-cell acute lymphoblastic leukemia, a moment Sara describes as "being hit with a ton of bricks." Immediately, Aubrielle began inpatient chemotherapy, underwent surgery to install a mediport and began receiving lifesaving blood and platelet transfusions. Her blood cancer journey had begun in full force, less than a day after she first went to her doctor. Aubrielle was inpatient for a week and a half before she was stable enough to return home. She was on her way, with a very positive prognosis, but the ALL treatment process is a lengthy one. Jason and Sara tried not to get overwhelmed as they contemplated the two+ years of treatment on the horizon for their little girl.
T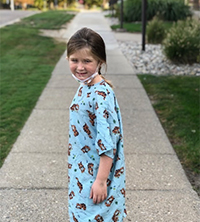 he tough part of a blood cancer diagnosis for a family, in addition to witnessing the difficult treatment path the patient must walk, is the sheer amount of information they receive right out of the gate. Jason and Sara wryly recalled walking out of the hospital after having babies with no manuals at all, but leaving the hospital with a bible's worth of information after Aubrielle's leukemia diagnosis. This can feel so overwhelming to a family already trying to support the day-by-day struggles of their child.
During his quest to understand Aubrielle's new situation and how to best support his family, Jason was introduced to The Blood Cancer Foundation of Michigan through the child life specialists at Hurley. BCFM Patient Support Specialist Angela was brought into their lives, and provided emotional support and guidance, sometimes multiple times a week, to Aubrielle's family. Angela helped the family navigate all the information they were given and connected them to mental health resources to keep the entire family stable during the process. According to Jason, they learned to "find a positive in the day and just build off of that." BCFM also got involved to brighten the holiday season for Aubrielle and Jackson, sending a box of toys to their house. Jason says, "there was nothing but smiles and joy because of everything they've received from BCFM."
The Woods fa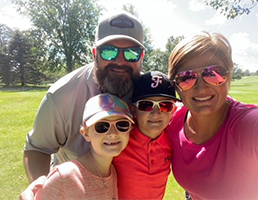 mily have also become strong advocates for blood donation, and have partnered with the American Red Cross to help draw attention to the need for volunteer blood donors. As Jason puts it, "After her blood transfusions, Aubrielle was stronger and visibly healing in front of us. The blood was a gamechanger to her recovery. We encourage our community to donate blood because you never know when it could impact you or someone you love!"
Aubrielle's family looks forward to January 2023, when she is projected to finish her leukemia treatment. Sara states, "we get our strength from Aubrielle, and have never lost hope knowing there is light at the end of the tunnel. We are grateful to look forward to the day when she will ring the remission bell!"